Originally posted HERE on Tuesday, May 17, 2005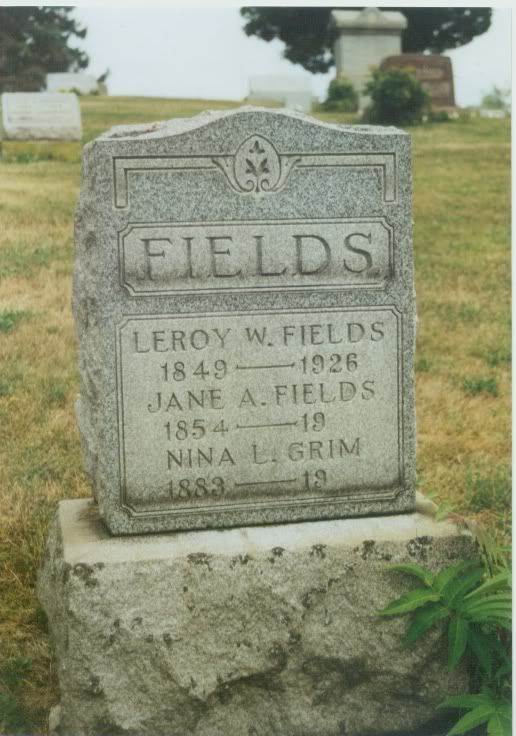 I haven't been doing a good job at keeping up this journal, have I?
One of the things I love about having a subscription to Ancestry.com is that I can work on census research any time of the day or night. I only subscribe to the census option, to me it seems like the best value.
Every little piece of new info is a small victory for me. In August 1999, I visited West Finley Cemetery in Washington County, PA, where many family members related to my great-grandmother May (McDaid) Atkinson were buried. The gravestone shown in this entry was taken then. Mrs. Fields was May Atkinson's first cousin. And ever since then, I have tried to find the first name of the man who married Nina Fields Grim.
Just a few days ago, I finally had some luck. In the 1930 census for Cameron, Marshall County, WV, I found Nina Grim, living alone, her marital status marked "D" which would mean divorced. That's the first time I had been able to track her down with her married name. But it still didn't tell me who her husband had been.
So I looked at the 1920 Census for Marshall County, and found Nina Grim living with her husband, daughter, and her husband's brother. Unfortunately, the census taker had horrible handwriting, and I couldn't make out the husband's name. The Ancestry index called him "Steve", but it looked more like the name started out "stu" to me, maybe Stuart? I then looked in the 1910. The Grim family was listed that year by their initials, S. G. and N. L. Grim. So frustrating! My last plan was to go back to the 1930 census to see if Nina Grim's husband might have still been living nearby after they separated. Finally, I was able to find a man named Sturgis Grim, living alone with a marital status "D." At last, I had his name!
Sturgis Grim seemed like a unique name to me, so I then used Google to search for "Sturgis G. Grim" and found a link to a relative of his who had posted his obituary online, here. I also found an outline of his military service during the Spanish American War, here.
Will Sturgis Grim end up being important to my research? It's too early to tell. I know that he and Nina had a daughter named Adaline, so there's always the possibility that there are living descendants out the somewhere. And one of them might have some missing piece of info that will take my own line back another generation, or they might know the maiden name of one of my female ancestors, and they just might find me now that I have more information! You never know.
Take a look at what I've put together about Sturgis Grim!